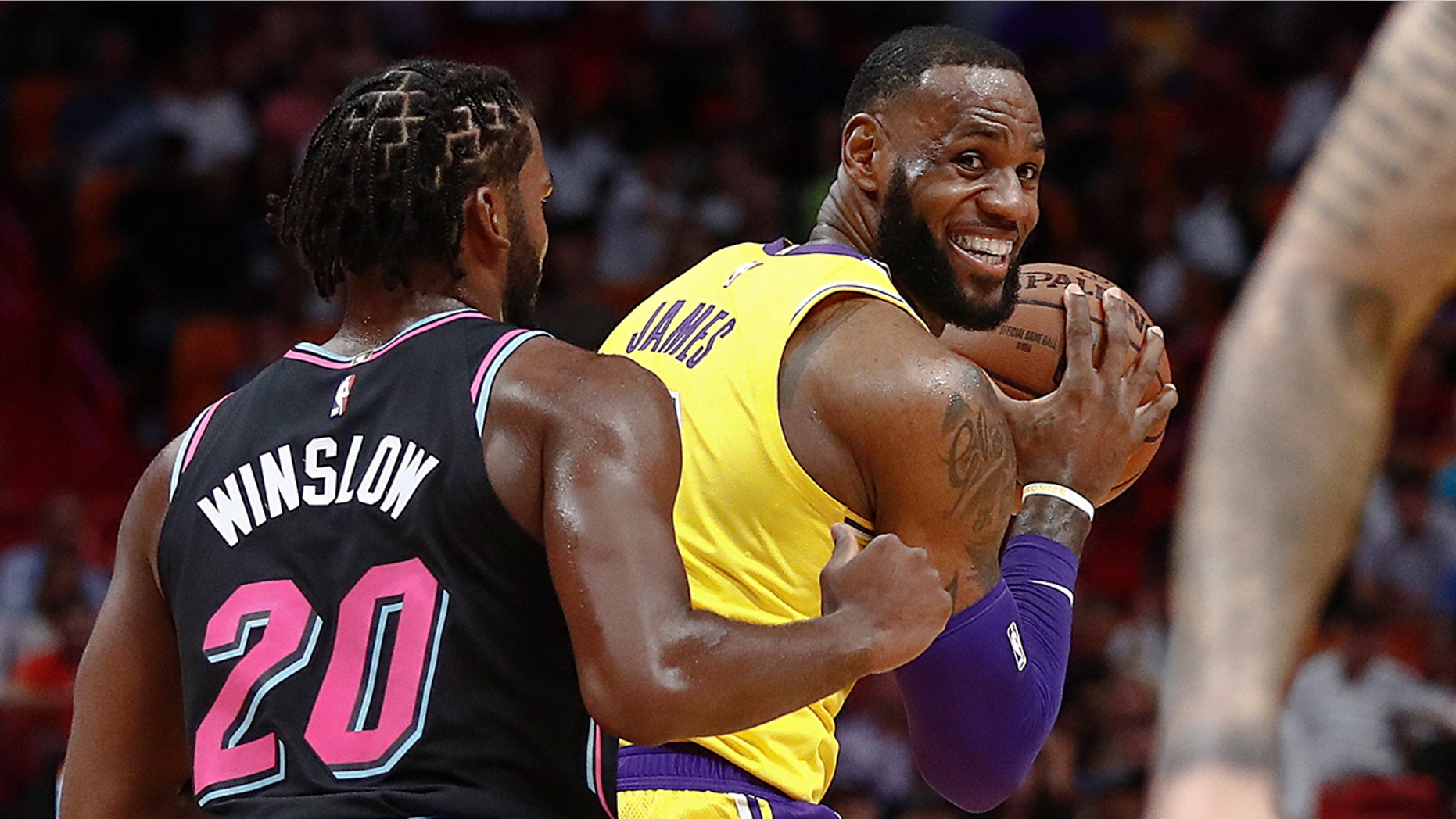 LeBron James continues to defy Father Time, as he dropped 51 points in Sunday night's 113-97 win over the Heat in Miami to notch yet another milestone in an already illustrious career.
It fell short of the 60 points that Charlotte's 28-year-old Kemba Walker scored a night earlier against Philadephia, but it was still a stellar performance in a career of stellar performances.
In his 16th season, 33-year-old James became just the second player to score at least 50 points in a game this far along in an NBA career. Kobe Bryant scored 60 points in his final game as a Laker in 2016 with the help of 50 shot attempts.
The Los Angeles Lakers star went 19 for 31 from the field and 6 for 8 from 3-point range in the win against his former team, with whom he won two NBA titles alongside Dwyane Wade and Chris Bosh.
"He's the best player in the world," Lakers guard Lonzo Ball said.
Added fellow Laker Kyle Kuzma: "He could average 40 if he wanted."
Less than 20 games into the season, James is averaging 28.8 points on 52 percent shooting, with 7.7 rebounds and 6.9 assists per game – no one in NBA history has averaged that many points after 16 seasons or more.
Steve Nash, John Stockton and Jason Kidd – some of best guards to ever lace 'em up – are the only players to average as many assists as James at this stage in his career.
Heat coach Erik Spoelstra summed up his former Miami player of four seasons in just one word: "Timeless."
In the closing seconds of Sunday's game, Lance Stephenson challenged James to shoot a 3-pointer to cap off the night as he tried to score 50.
"I bet you won't go for the 3," Stephenson said.
Moments later, the ball was through the net and James was pointing to Stephenson to let him know who won the bet.
After the game, James said its performances like this that will help those find an answer to the never-ending debate over who is the greatest to ever play the game.
"I've always been a guy to let the game talk for itself, speak for itself," James said. "My body of work speaks for itself, still to this day, 16 years in."
Pausing for a second, before cracking a smile, James quipped: "If there's ever a discussion, games like this will make sure you figure it out."
The Associated Press contributed to this report.